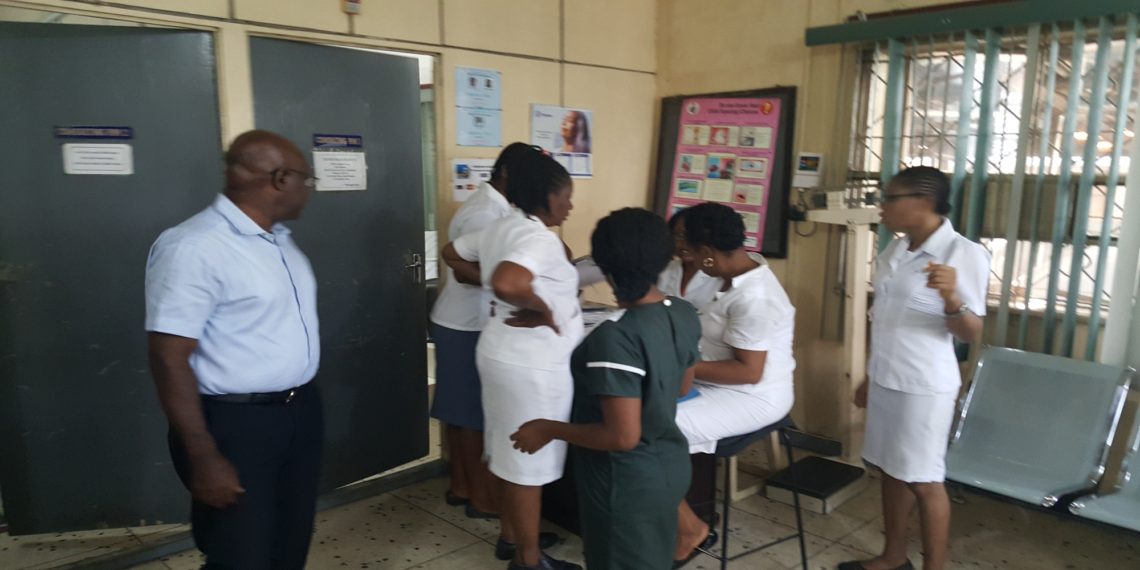 Adonai Medical Center is a center for a qualitative medical practice, covering all branches of health care delivery service.
After taking a good look at the entire health care delivery system in our society, it was discovered that a lot of Nigerians do not have adequate health care.  The Government hospitals were ill equipped to cope with the demands.  Adonai Medical Center sprang up with the desire to give wholesome, qualitative and transparent health care at affordable cost.
Many corporate bodies have set up staff welfare policies that include staff health care delivery.  This is to make sure that their staff is healthy enough to put in the best at work.  To achieve this, such corporate organizations need a Health Establishment, committed to such welfare.  Otherwise, it may not yield the expected result.  To address the abuse of such program is part of the vision of Adonai Medical Center.
A lot of Christians face all kinds of attack in their health and the enemy uses this platform; hospitals, especially those managed and operated by cultists, to perpetuate his evil plans against Gods people.  There is the need for a place with Gods covering where Christians can be catered for even when they are unable to afford the means for quality health care.
These and a host of others, were the motivating factors for the establishment of Adonai Medical Center, based on Christian principles of "service to mankind in sincerity and integrity."
Adonai Medical Center is committed to quality and excellent health care services to her patients. Adonai is a ministry outfit, to people. This is why the Lord laid it in our heart to establish a place for divine intervention to health issues.  Hence the Adonai Medical Center where the Lord rules and people receive 'Health With A divine Touch.'
Our well-trained and compassionate staffs are always ready to inform, educate and encourage our patients, be they private or corporate patients.   Every patient receives a personal touch. We believe we care, but that only God heals.
For our corporate clients, i.e. patients from companies which have Retainership arrangement with us, we do not only make sure their staff are taken good care of, we also protect the interest of the company against staff truancy and health care related fraud by staff. Confidential reports on staff are sent when necessary to the management.
They are also advised on appropriate health care delivery service to their staff based on what they can afford.
VISION
The vision of this establishment already highlighted earlier, is to have a Medical Center, where modern and quality health care is practiced.
Our vision is to create an environment different from the normal hospital environment, where people dread to come because of a long but erroneous impression that a hospital is where you have 50 /50 chance to come out from or end up in the morgue. Our vision is, a medical center that is a home away from home; a place patients will come with the confidence that all he needs to do is just get there and he is in safe hands. A place you can get attention some may not even find in their homes.  A place where your satisfaction is the primary aim, and where life is valued.
The vision is that of a place where a patient gets services he cannot get elsewhere for the same cost.  The center is conceptualized to be a place where the operational policy is first and foremost, service to God and mankind;  "as unto the Lord".
Our long – term vision is for a fairly big complex where the total man will be catered for medically, spiritually and otherwise.
We intend to have a complex where any patient that comes in or his relation visiting, can get whatever he wants.  In doing this
we shall be very careful to make sure that not a jot of the personalized service to our patients is lost.
PHILOSOPHY
Our philosophy is simply based on the belief that whatever one does at any time to any human being, must be seen in the light of doing it to Him who is invisible but sees everything, and will reward accordingly.
We believe in the uncompromised ethics of the medical profession.  We believe that life is more important than money.  The first consideration in treating any patient is to give the best possible and save life irrespective of whether he/she is rich or poor, black or white, male or female, young or old, irrespective of religious affiliations.
The staff is trained to handle every patient as though such a patient is a blood relation who is sick and needs help.
We believe that in everything in life, especially relating to medical care, it does matter what great heights one gets to. It does not matter how much wealth or fame one accumulates. Only what is done for Christ matters and will get God's approval.
OUR SERVICES:
General Medical Services which include:
Maternal & Child Welfare Clinics.
Immunization
Pre & Post natal Clinics.
Family Planning Clinics
Laboratory Investigations
Radiological Tests
Specialty Clinics:
Surgical Clinics
Obstetrics & Gynecology Clinics
Pediatric Clinics
Cardiology Clinics.
We handle minor, medium and major surgical procedures.  We have a team of Christian specialists in every field who come in each time there is a case requiring their expertise.  Apart from this some of them run routine consultation clinics in their various fields.
OPERATIONAL PROCEDURE
Each staff of the center is made to carry out his or her duties with utmost care, commitment and responsibility.  This is because we recognize the great difference between dealing with goods or animals, and human life.  The policy of the hospital is to have as much as possible only born again Christian doctors, nurses etc. on the staff.  This way it is easy to communicate the leading of the Lord with regard to our operations.
Very Careful Examination of Patient:
Every patient, big or small, rich or poor, old or young are properly examined for accurate diagnosis before the doctors prescribe treatment.  Every treatment prescribed by the doctor is closely monitored to ensure accuracy in dispensing or implementation.  The Medical Director makes it a point of duty to crosscheck every diagnosis and prescription made for a patient, and ensures proper delivery by the pharmacy and the nurses.  Every patient is special and as such receives special personal treatment by both the doctor and the nurse.
Monitoring The Progress of Each Patient:
The progress of every patient is closely monitored, especially in-patients.  Apart from patients on acute observation, who are monitored very closely and frequently, every patient is observed and monitored by the doctor during routine ward rounds.
Even after discharge, patients with health problems which require follow up, are closely monitored regularly.
Laboratory Investigations & Examination:
This is an integral part of our operational procedure to ensure proper diagnosis.  With this kind of examination by reliable professionals, the issue of presumption in our diagnosis is ruled out.  For cases that require it, Laboratory investigations, X-rays and Ultra-sound scan, E.C.G. /EEG are done to ensure proper diagnosis.  We have a well-equipped Medical and Diagnostic laboratory for this purpose.
Presently such diagnostic need for Ultra sound scan, X-rays and other more sophisticated investigations like CT scan and dialysis are sourced out to facilities we have an arrangement with for the purpose.
Case Referrals:
The Adonai Medical Center is conscious of human and material limitations with regard to health care delivery.  The center does not hesitate or delay in referring cases that require very specialist attention, which she is unable to provide at any point. Such cases are referred to the Teaching Hospital or any other center, depending on the patient or his relations' choice.  Even when patients or their relations refuse referral and insist on continued management by us, we try not to succumb since the thing uppermost in mind is the life of such a patient.  We do not just refer patients and forget about them.  In most cases the medical director personally and physically arranges the transfer of such patients and even makes sure adequate and proper attention is given him wherever he is referred to.
The progress of such patient is also closely monitored until he is discharged or at least quite stable.
God In Our Practice
One thing that is unique about Adonai Medical Center is that The Spirit of God is central in her operations.  We believe that most physical sickness has spiritual links and so the application of the provision of God's healing covenant with us comes handy.  Since this is a place of Healing With A Divine Touch spiritual discernment and application of divine direction in diagnosis and treatment of sickness are widely applied.  God has been very faithful in this regard to fulfil His word to us when He spoke to us to start the hospital.  The Medical Director, Dr. Ada Ucheya would always seek God concerning every case especially very bad cases, together with the Managing Director Willie Ucheya, patients are ministered to according to the leading of the Spirit. In some cases the elders within the body are called in to stand with us to bring ministry to the patients.  So it is a combination of medicine and divine touch to bring healing.  Testimonies abound of cases that have been written off by many, even bigger health facilities, which God enabled Adonai to handle to bring about healing.  We have had cases, not once and not twice where patients had to be brought back to life by the power of God through prayers.
People have come to know Adonai Medical Center as a place people don't die.  A place hopeless cases receive hope.  And it is all about the Lord and ALL the glory go to Him who is ever faithful to His words.
The hospital has from the onset been a mission field where many have met with the Lord and are also mentored and disciple in the vision.  Many young people are being ministered to here in several ways.  Some come for medical help and we discovered they were under demonic oppression and we ministered deliverance to them and they get well not only physically but also spiritually and emotionally.
Humanitarian Services / Outreach
The hospital also has humanitarian services which mainly takes care of people, especially Christians and specially brethren in the body, who cannot afford medical care.  It also takes care of those who are abused by their spouses or families and need medical help in addition to counseling.
Such services ranges from twenty to a hundred percent discount on cost of treatment or Medicare.
On the second Saturday of every month, between 10.00am and 2.00pm, we organize an outreach to people who live and work in and around the fellowship center in Ilupeju area of Lagos.  Some brethren in the fellowship who identify with this outreach burden join us.  The fellowship center is used as venue where a medical team set up for free medical consultation, basic tests and diagnosis.  Some brethren go out to the streets on evangelism and invite people to the free medical tests.  Even those who may not have made immediate commitment to Christ, honor the invitation to get their blood Pressure, Blood Sugar, etc. checked.  Those that require immediate medical help are given medication as the hospital provides a mini pharmacy at the outreach venue.
Some mature brethren also stay around at the venue to minister to those that require counselling and ministrations.  If there is need for deliverance it will be done.  Those who are thus ministered to are invited to church the next day or to the mid-week fellowship on Wednesday.  Both Christians, Moslems and others are being reached through this means and the Lord has been faithful in crowning the project with success to His glory.
Challenges
We will always acknowledge the faithfulness of our god in the hospital operations. However, there are a few challenges we have faced over the years for which we are trusting the Lord to overcome in our quest to actualize the vision God gave us.
The major challenge is that of funding which affects every other aspect of our operation.  The economic situation in Nigeria makes thing a bit more difficult.  For instance we have been operating from a rented building where we have put in a lot to make it suitable for our use.  We have not been able yet to realize our dream of getting our own property because there is no mortgage facilities in place now.  The banks are not ready to give any long term loan for such projects. Properties are very expensive. Our own property will enable us do more that we are doing presently. Space is a challenge here.  Recently our landlord is asking us to return his property to him and look for another place. For this we are waiting on the Lord for direction.
In terms of equipment we believe God to make a way for us to acquire some of the equipment like Ultra sound scan. We normally source this from outside but the problem is that what the patients pay especially those from Health Management Organizations are far lower than what we pay the scan centers for the services.
Another related challenge is that a lot of people take advantage of our mode of operation to either owe us for a long time for treatment received or even not pay at all. Apart from those who cannot afford the payment for their treatment, especially Christians for which we have a pact with God to give them services free as ministry, many including brethren many times refuse to pay for services received while others will owe for a long time.  Of course we cannot sue anybody or go after them with the law, even though we may be justified if we do so.  Our understanding of what God wants makes it impossible for us to do so.  But we thank God that there have been cases we had to cry to God and He moved debtors to come and pay after many months and in some cases years of owing.
Apart from challenges listed above, general cost of overhead is enormous. The government collects several taxes from us at both local, state and federal levels, yet nothing is provided in return.  We have to generate our own power from generators. We must have power 24/7 for proper operation.  We have to provide water supply by ourselves.  Cost of petrol and gas is very high.  Just yesterday the cost of petrol was increased by over 80%.
Summary
In all of these, the summary is that in Adonai Medical Center, The Adonai has proved Himself faithful.  We are fully persuaded that, in spite of the obvious challenges, He who began this good work in and with us, shall perfect it to His glory and praise.
—————-
A Few of The Many Testimonies Of Divine Intervention In The Medical Practice of Adonai Medical Center Lagos.
In Adonai Medical Center Lagos Nigeria, we have over the years witnessed the faithfulness of the Lord through His divine intervention in cases we have had to handle within the hospital.  There were cases that defied medical theories and pattern in terms of diagnosis and treatment.  In many of the cases they had visited other popular health facilities without results and at the point of seeming hopelessness and helplessness were directed to come to Adonai Medical Center.
Some of the testimonies have been shared at both national and international conferences by those concerned.  I will not repeat them. But I will just highlight very few cases.
In 1997 a Christian couple in one of our fellowships in Ibadan needed to have their baby and the Lord directed them to come to Lagos to have their baby. Now during the delivery the sister was getting weak and feeling unable to push out her baby. In such situation the other option would be to section her.  But after enquiring from the Lord He did not say they should go in for surgery. So some brethren came around and prayers were made and she eventually brought forth but the baby was still; did not cry and breathless. So we began to command life into the baby and Dr. Ada heard God say to her to breath into the baby and as soon as she did that the baby came round, sneezed and began to cry.
In 2014, a lady called Chiko was going through a lot of situations in her life. She was about 40 years of age and not married.  She also had a health challenge that required she underwent a fibroid surgery (myomectomy).  She was afraid to go into this because she was being spiritually threatened with death.  So going in for surgery could just be a way for the devil to actualize the threat.  Then someone directed her to Adonai Medical Center.  After series of counselling and assurance through the word by Dr. Ada, the surgery was scheduled.  There was a definite sign in the spirit that the procedure was going to be a real battle for life.  To cut it short, the surgery took place amidst prayer back up before and during the surgery. Shortly after the surgery the enemy struck and she pass out and slipped into coma for hours. Everything that needed to be done medically was done without result and so the rest of the medical team gave up knowing that nothing more could be done.  Even if she recovered she would become a vegetable in which case to die would be a preferred option. But the Lord had given a word and so Dr. Ada and her husband refused to give up but held on praying and notices sent to other brethren to stay in prayer.  The patient's relations began to cry as they went ahead to arrange for an ambulance to convey her body out of the hospital.  We refused to be moved and stayed on.  As soon as they were up to take her body away she made some movements and they rushed down to my office where we were praying to say what happened. Dr. Ada went up and called her by her name like Jesus called on to Lazarus, then she answered. Her relations now turned the hospital into a praise and worship center for almost an hour.  Choko is very healthy now doing her work and above all walking in the victory of Jesus as she did not only come back to life physically the Lord also brought her back to life spiritually.
In 2015 also, an 80 year old Grandmother Lady Edna presented with vomiting and stooling blood. Lab investigations and CT scan diagnosed cancer of the colon with metastases all over. It was a bad case. But due to its suddenness without prior indications we knew it was more spiritual than medical.  Occult attack was involved.  So we rejected the specialists' diagnosis knowing it was from the devil. During prayer and seeking God for this case the Lord ministered to Dr. Ada, "treat her for diverticulosis." So we began to confess it is not cancer but diverticulosis.  After three days of treatment with transfusions she started to stabilize.  She was flown out to the US for further treatment and there the specialists confirmed that it was diverticulosis and that whoever was treating her did very well and so no more treatment required.
In

Feb.2016

a junior staff of one of the companies our facility retains presented with a very strange illness. After several tests were carried out nothing could be definitely diagnosed as it did not fit into any known pattern. He was losing weight and in pains and suggestions were that he might need surgery. We referred him to the teaching hospital because of the cost of handling such cases privately.  But as we prayed for him the Lord began to direct as to the kind of antibiotics he should be given and the other treatment even though medically they don't fit.  Ada went ahead to administer as the Lord directed. After about two weeks we decided to refer to the teaching hospital.  They got there but due to the long protocol and the long list of cases awaiting attention, the patient came back and within another week of treatment as directed by the Lord, he became well.  Everything thing ceased and he returned to work and is still very healthy today.  Up till now one cannot really say what he was treated for.
Like I mentioned earlier these are a few of the many cases we have encountered where the Lord proved Himself as the greatest physician who has remained strong on our behalf.  We give Him ALL the glory and praise forever.
Willie Ucheya.
Compiled by Willie Ucheya. (April. 2016.)