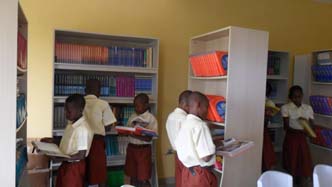 FIRSTFRUIT CHRISTIAN ACADEMY
A secondary School
James 1:18: of his own will begat he us with the word of truth, that we should be a kind of Firstfruits of his creatures
VISION  / BACKGROUND
The school is established to offer high quality educational services based on Christian values. The aim of the school project therefore is to produce opportunity for the young people to benefit from high standards of education where Christian principles are put to practice.Firsfruits Christian Academy is born from the need to be part of the Almighty God's move in this end time to bring forth a Firstfruits company, a product of the Lord Jesus Christ, His replica on the earth and worshipping Him alone.
The Firstfruits Christian Academy founded by seasoned educationists to bring up adolescent children based on sound Christian principles and in the fear of God. It shall provide boarding facilities, fully equipped facilities, experienced, qualified and Godly teachers.
The school is located in chokwota, Igbo-Etche, RiversState. The setting is deliberately rural, quiet and conducive for learning while within easy reach of Port Harcourt City Centre. The school has a land mass of 5 acres representing 20, 365.50 sqmetres, fully fenced and secure.
MISSION STATEMENT
To be an exemplary Educational institution raising a generation based on Godly Christian principles.
MOTTO
Integrity and Excellence
The following principles guide the school's approach to education.
The children to be encouraged to build a sound inquiring and informed mind. This would encourage creativity in different skills, subject areas and the world at large.
The adolescent children are to be assisted to develop valuable principles of obedience, excellence, handwork, self discipline and sound morals. These principles are to be acquired, practiced and not merely learned.
iii.        The High School level of education is a critical stage in the adolescents' life and determines the child's success or failure to embark on higher education.
The type of education practiced would be a joint venture of the home and school to have a well developed and rounded child.
The above-mentioned points will be guided by Christian principles
OBJECTIVES:
To sharpen the adolescent Child's intellect and analytical mind.
To encourage obedience, excellence, hard work, self discipline, love for learning in the adolescent child.
To develop adolescent children who would have confidence in themselves, respect for others, obedience, love for truth and fear of God.
CURRICULUM:
Our curriculum is based on the Nigerian National policy on education, which provides for 3 years of the junior secondary and 3 years of the senior secondary school. In addition to this we will also integrate the Cambridge ordinary level.
CORE SUBJECT:
(i) Science:   Integrated Science, Physics, Chemistry, Biology, Mathematics
(ii) Arts:          English Language, Literature in English, Social Studies, Christian Religious Knowledge, French.
(iii) Pre-vocational: Introductory Technology, Business Studies, Home Economics, Agricultural Science, Physical and Health Education, Fine and Applied Arts, Music.
School goals
The following core values are to be pursued vigorously
Respect
Integrity
Unity
Productive citizenship
Discipline
Commitment
Obedience
Excellence
The above goals are to create a climate that ensures student / parents involvement in learning using effective instrumental strategies and innovative curriculum.
A place, where students are challenged to take advantage of educational opportunities;
A place, where students have a safe and supportive learning environment;
A place, where there are high, measurable and achievable expectations for every student.
Contact:
Firstfruits Christian Academy
Government Estate
Chokwota, IboeEtche
Port Harcourt
Nigeria