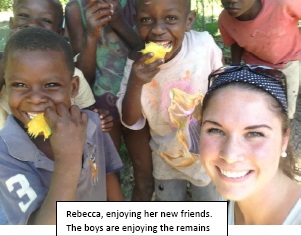 Effort Vision
Haiti Outreach Foundation for Spiritual & Economic Development
Expanding the Body of Christ
Biblical Principles in Finances & Tithing
Nurturing & Discipling Believers
Program of Revolving Loans
Founders: Emmanus Charles, John & Dawn Ashford 2007 Montrouis, Haiti W.I.
THEY HAVE WATER AGAIN!!

You don't realize how important water is until you don't have it. We sent an urgent request for prayer regarding the well at Emmanus' home in our last newsletter. After seven years it had run dry. The original well was 95' which had to be hand dug and took close to a year the first time to reach water. It was such a tremendous blessing to their home, Effort Church and the community. So many of the people were depending on it. So it was with great distress when they delivered the message to us that there was no longer any water.

We want to thank you for your prayers and support for this project. It was not an easy one. It was almost 6 weeks before they had water again. They had to go down an additional 35' before they were able to reach water again. Thank you Lord for your faithfulness! It was costly but the Lord laid it upon many of your hearts to pitch in with the cost.
Little Layla
Layla has worked her way into the hearts of Pastor Emmanus' family. It is going to add considerable responsibilities to their already heavy load but the family in unison has determined that they are going to keep Layla in their family. We were previously looking to find a family for her. Pastor Emmanus rescued her about a year ago after ministering to a church in the Pierre Payen area. Her age is unclear but she was quite small. Her parents had both died and no one was able to take her in. So he brought her home.
It is a blessing to watch the people of the church and Emmanus' close neighbors all contribute to her care. They all seem to have a love for her. The largest portion of the responsibility has been picked up by Kercy, Pastor Emmanus' daughter, who is 19 yr. old. Currently she is finished with her regular schooling but she is looking to soon start at the University in Port au Prince and is hoping to be accepted into a medical school. So it will be quite a transition for both she and Layla when she goes back to school.
Stacy, Emmanus' oldest daughter is in her 2nd year of nursing school and is now engaged to James Pierre Charles, who is one of the elders in the church and also part of the Effort Vision Committee. We were able to share in a special evening of prayer and dedication as they prepare to enter into this next step of their lives.

December 2015
Layla